I sat in my room in the temple building in Skopje, the capital of Macedonia, taking prasadam and listening to a bhajan by devotees downstairs in the temple itself. "That's such a sweet bhajan" I said to a devotee "and it's been going on for hours." "Yes, Maharaja," he said. "The Macedonians are very musically inclined, we love to sing and play musical instruments. We even have our own form of a tamboura here, a four-stringed instrument. Devotees use it often in bhajans." Two hours later I left for the square in the city center with a group of twenty devotees. The square, renovated in recent years, is a popular place for the people of Skopje to spend warm summer evenings sitting, talking, and eating in nearby restaurants. As we approached the square I saw the huge statue of Alexander the Great.
"That statue is quite impressive," I said to a devotee.


"Yes," he replied. "Alexander the Great was from Macedonia. He left here to conquer the world, he built a huge empire, but it was too much to manage, and he never returned home." I had been reading TKG's Diary by Tamal Krsna Goswami while traveling, and just that morning I had come across a passage where Goswami quoted Srila Prabhupada on the same point: "Srila Prabhupada actually said that Alexander the Great could not maintain his large empire," I said.
Prabhupada said : Suppose I conquer Bombay and then Karachi, but in the meantime Bombay is lost? That was Alexander the Great : too much expansion.' "Srila Prabhupada said it was for this reason that he was emphasizing the importance of book selling over opening temples. He said, 'Don't make me Alexander the Great in my lifetime. People have recognized I am great. Don't make me small." The devotee, pointed to the other side of the square. "There's also another important landmark over there," he said. "It's the home of Mother Teresa, who was born here in 1910 and left at seventeen to go to India as a missionary. The house is now a national memorial."
Last Updated (Tuesday, 14 May 2013 23:02)
The Form of God - Fact or Fancy?
&nbsp
Is God a formless force, or the supreme eternal person?
&nbsp
Often people become puzzled when they see a picture of Lord Krishna. Usually they have been exposed only to Western religious philosophy, which hints that God is a person—the eternal father of every living entity—but gives scanty information about His form. For this reason many people think God is formless or void. But by using a little logic we can easily understand that if God is our eternal father, He must have form. Our fathers are persons with form. And if we count back thousands of generations we will find that our forefathers were also persons with form. Why should we think that the original, primeval, absolute father (God) is not a person, or that He is a formless person? The word person implies form; a formless person does not exist.
&nbsp
Nevertheless, many people think that since God is spirit, He must be formless. They consider spirit to be some transparent, ethereal "force." However, beyond this hazy conception of spirit, which is not upheld in any of the great scriptures of the world, is the scientific explanation of spirit—or, as modern science calls it, antimatter—found in the Vedic literature.
&nbsp
&nbsp
Last Updated (Friday, 05 April 2013 23:03)
&nbsp
&nbsp
"The Art of Kirtan" is a kirtan workshop at Melbourne's Mahaprabhu Mandir on 28 October 2012 with Madhava Dasa and Radhika Devi Dasi. It tells the human story behind Madhava and his kirtans ranging from his childhood to his training with Aindra Prabhu in Vrindavan and his travelling to introduce kirtan all over the world.
&nbsp
Madhava speaks about kirtan etiquette and demonstrates how to play kartals and mridanga with the sole objective to please Krishna.
&nbsp
Last Updated (Saturday, 23 March 2013 02:24)
The Test of the Genuine Guru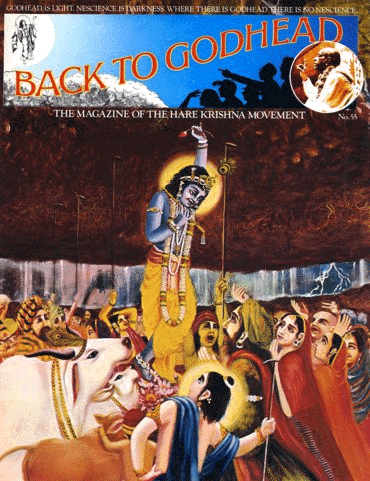 An Interview in London with His Divine Grace A.C. Bhaktivedanta Swami Prabhupada, from Back To Godhead, Vol. I, No. 55, 1973.
Prabhupada: Are you under the impression that spiritual life means voluntarily accepting poverty? Do you think like that?
Interviewer: Well, I don't, but I only thought that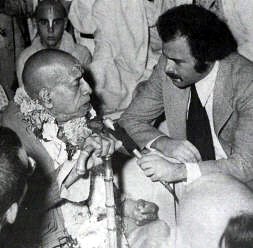 Interview To Srila Prabhupada
Prabhupada: A poverty-stricken man may be most materialistic, and a wealthy man may be very spiritual. Spiritual life does not depend on one's living in poverty or wealth. Spiritual life is different. Consider Arjuna, for instance. Arjuna was a member of the royal family, and in Bhagavad-gita Sri Krsna said: evam parampara praptam imam rajarsayo viduh: "This supreme science was received through the chain of disciplic succession, and the saintly kings understood it in that way." (Bg. 4.2) In the past all kings who were saintly understood this spiritual life. Therefore spiritual life does not depend on one's material condition. A person may be a king or a pauper whatever his material condition may be, he can still understand spiritual life. Generally people do not know what spiritual life is, and they unnecessarily criticize us because they have no knowledge of spiritual life. If I asked you whether you. know what spiritual life is, how would you answer?
Last Updated (Friday, 08 March 2013 10:53)
Everybody, Somebody, Anybody and Nobody
&nbsp
There were four friends named Everybody, Somebody, Anybody and Nobody.
&nbsp
One day there was a service to be done, and Everybody was sure that Somebody would do it.
&nbsp
Anybody could have done it but Nobody did it.
&nbsp
Somebody got angry about that because it was Everybody's job.
&nbsp
Everybody thought Anybody could do it, but Nobody realized that Everybody wouldn't do it.
&nbsp
It ended up that Everybody blamed Somebody when Nobody did what Anybody could have done.
&nbsp
&nbsp
Last Updated (Monday, 04 March 2013 08:33)
Greatest Scholar, Innocent Boy
&nbsp
It Is For the Greatest Scholar, It Is For the Innocent Boy… Part Two
&nbsp
By HDG A.C. Bhaktivedanta Swami Srila Prabhupada, Back To Godhead Vol. 01, No. 44, Nov 1st, 1971.
&nbsp
&nbsp
Q: Your Grace, how does one attain Krsna consciousness?
&nbsp
Srila Prabhupada: There are several stages in attainment of Krsna consciousness. The first stage is faith, or inquisitiveness just as you have come to me now, this is the first stage. Due to some inquisitiveness or some faith in the people who are teaching Krsna consciousness, who have said that it is very helpful, one comes to the first stage. One should be inquisitive and have a little faith, or a little respect for Krsna consciousness: "It is very nice. They are speaking and working." This is the first stage.
&nbsp
If you find that Krsna consciousness is interesting, then the second stage is to associate with us, to understand more. We have class in the morning daily, but for the public, we are holding classes in the evening from 7 to 9 p.m. at our temple, discussing this book, holding kirtana, distributing prasadam. There is no labor you simply come and hear songs, dance, take offered food, hear philosophy and think, and then you go home. We don't ask anyone to press his nose, to hold his head down or to exercise in a certain way. It is better that people automatically want to dance with us. Although dancing is labor, they like it. So, the next stage is to associate with us, to understand more and more. This is the second stage The first stage is to have faith and respect, and the second stage is association.
&nbsp
If by association, one becomes serious about becoming a regular student, that is the third stage. That is called initiation. In that stage students are guided by me; they follow strictly. For the initiated students there are four principles: we don't allow students to take any foodstuffs which are not offered to the Deity. So we offer foodstuffs to the Deity: grains, fruits, flowers and milk products, but no meat, no eggs, or anything of that sort. Perhaps you have participated in our love feast on Sundays. Yes?
&nbsp
Last Updated (Thursday, 21 February 2013 05:45)
What is this? Oh my, Srila Prabhupada appearing with Allen Ginsburg? On the same stage? How is it possible?
It was true. We put these posters all over the Ohio State University campus. I was in the room when Srila Prabhupada was talking to Sriman Allen Ginsberg before the event. I was shocked, quite honestly, at how humble Srila Prabhupada was, how he was asking Ginsberg's opinion on the venue. It was amazing. Anyway, about 2,000 Midwest teenagers from the "All American City" of Columbus, Ohio showed up, mostly to hear from the bohemian Allen. At this time he was a famous poet. At the event he gave a talk, and I only remember one thing he said. It certainly wasn't exactly parampara.
Then Srila Prabhupada talked, and then the most amazing thing happened that I can never forget. We had the most amazing kirtan I have ever experienced. As the audience gradually started to catch on to the magical maha mantra, they began to chant. Not only chant, they all chanted like enthusiastic devotees. As the devotees stood up on the stage around Srila Prabhupada and started to dance, after having been seated around His Divine Grace, some of the audience also started dancing. Some came up by the stage, some stood up in their seats. Then Srila Prabhupada stood up on his box-like Vyasasana and was dancing and throwing some of his garland flowers to the crowd who was catching them. It was so wild, so blissful. I felt like Srila Prabhupada "opened the storehouse of love of God" and was just passing it out!
Last Updated (Tuesday, 01 January 2013 14:11)